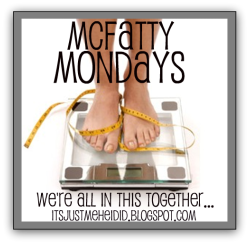 One week into this, and already I'm afraid I may have a big problem.
It's not the diet. Mostly because that hasn't yet started. Tomorrow, I promise...or soon, at least...
It's not that I don't like to exercise. I really do! I've actually had fun running on the treadmill in the garage and have made it through week one of Couch to 5k. I feel great when I'm done with a session.
Well.
Most of me feels great.
And then there's my knees.
Why, oh, why did you runner-type people not warn me that my knees could easily go from perfectly normal, if a little knobbly, to extremely painful in just seven days!?! I'm talking can't-make-it-up-the-stairs painful after tonight's run. Not good.
I thought I was doing everything right. I stretch before and after exercise. I do a warm up and a cool down. I alternate jogging and walking, just like C25K yells for me to do into the earbuds of my iPod.
Do I need new shoes? Did I overextend my knees? Are they inflamed? Is this my fibromyalgia? Am I just getting trail-worn? Does the universe just want me to stay unhealthy?!?
Already I can see my dreams of running at Disney World going down the drain with my sweaty bathwater, and I am getting really discouraged with each aching moment. That was my carrot, people. I was inspired. And because of one silly race, I was more determined than ever to build endurance and muscle and lose flab and self-doubt. Now that might not be feasible.
If you have any clue about why my knees are hot and painful, more so with each run, please let me know. And if you have any ideas about how to make it better, please let me know that, too. All my frozen veggies are thawing from icing my knees, and they'd be much better in my belly than as a first aid device.
I guess I also need to start considering the fact that my knees might not allow me to run (please, NO), and I also need ideas for other types of low-impact exercise that can still help me achieve my other goal--beach body by May. So, help.
And also tell me that things will get better or some other lie along those lines.
In more McFatty news, my weight is at 138.2 lbs (down 1.8 lbs), but I look absolutely the same. In fact, the weight loss is probably due to the fact that I didn't get enough groceries before this snowstorm thing hit the south. Or it might be because I shaved my legs. I fully expect the weight to return by next week when our cabinets are stocked, though by then they'll be only stocked with healthy items. And next week my husband will be on board and I'll have extra encouragement, which, let's face it, I need right now.